Agile Networks, Ireland's leading independent network integrator, has been granted 'Platinum Partner' status with Extreme Networks. The certification, which puts Agile in the top tier of partners across Europe, will ensure that customers in Ireland can access the best technical and commercial offerings following the recent merger of Extreme Networks and Enterasys Networks.
Darragh Richardson, Managing Director of Agile Networks said: "This is timely recognition of the significant development we have seen in the marketplace following the merger of Extreme and Enterasys. Allied to our ability to offer 'PartnerWorks' support it means that Agile can offer a genuinely competitive – and disruptive – offer to both legacy and new customers across the industry."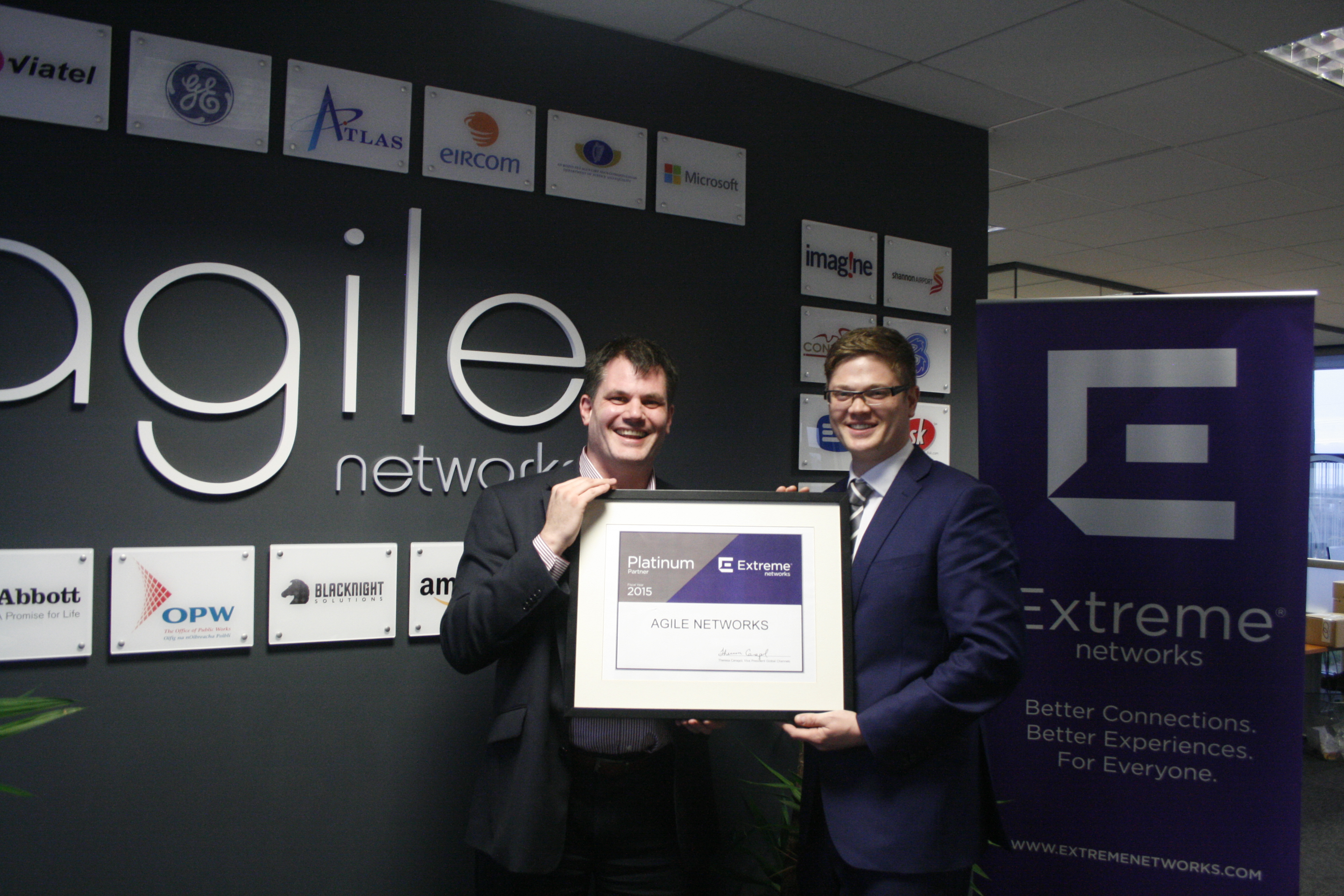 Darragh Richardson with David Kingsland – Business Development Manager with Extreme Networks
Steve Johnson, Regional Director for the UK and Ireland with Extreme Networks said: "Agile have made a significant commitment to supporting our customers through both formal certification and engineering excellence. Having a strong relationship with Agile has helped us offer our customers local expertise and develop a centre of excellence for Extreme Networks in the Irish marketplace."
It has been a busy couple of months for the Dublin-based network integration company as it secured important support contracts with Extreme Network customers like Aviva Stadium and Galway Clinic. 2014 also saw the company complete a number of key Extreme Networks projects including Abbot Laboratories, Dublin Castle, and INEX – the main exchange for the Irish internet.
Richardson added: "We offer the full-cycle of network integration services and now as Platinum Partners with Extreme Networks, customers of Agile Networks in Ireland can look forward to even greater choice and even greater competition in the marketplace."